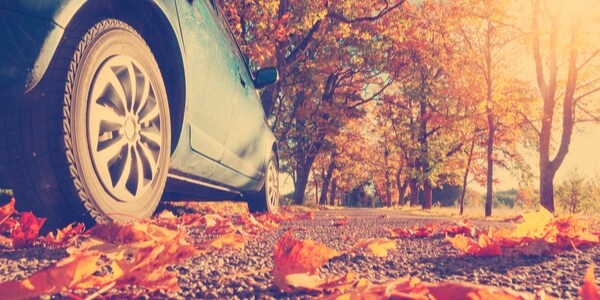 Whether it's taking the whole family pumpkin picking or heading off to college, it's immensely important to consider these safety tips to prepare your car for the Fall season. As the temperature cools and the road trips to the beach begin to wind down, it's easy to overlook the change in weather and thus forget to adapt to new driving conditions on the road ahead. 
At Ahl For Less, we are dedicated to serving our community's drivers and preparing them for whatever mother nature has to throw at roads from Lima to Delphos to Wapakoneta. Before you head to the store for apple cider and pumpkin spice, check out our highly recommended tips on how you can prepare your car for the Fall:
Inspecting Your Vehicle
Whether your seasoned veteran of the road, or a first-time driver, visually inspecting all around your car before you get behind the wheel is detrimental to your safety and the safety of others on the road:
Tire Health: As temperatures steadily cool from summer to autumn, so can your tires' air pressure levels (measured in PSI). Temperatures can subtly change your air pressure level; typically as temperatures drop, the air in your tire may retract either triggering your TPMS (Tire Pressure Monitoring System) indicator light or even causing low, deflated tires. Driving on low tires can be incredibly dangerous and costly, either resulting in premature wear on the tread or causing a blowout while driving, which can be especially dangerous on wet, leaf covered roads. 
Indicator lights: With the Fall season, comes foggy road conditions and poor visibility. Always check if all exterior lights are functioning, headlights and high beams are not only crucial for your own visibility, but brake lights and turn signals are critical to making other drivers aware of your presence on the road. 
Windshield Visibility: Like all other fluids necessary to keeping your vehicle running longer, maintaining regular levels of windshield washer fluid is important as there is increased precipitation in the Fall, and leaf debris which can create smudging and grime on your windshield. Additionally, early autumn mornings can cause frost build-up on your windshield. For early morning commuters, it's crucial to avoid driving with frost build-up and to give yourself enough time for your heating system to defrost or defog your windshield in the morning.
Seasonal Road Hazards & Fall Debris
As most of our Lima area drivers know, the Ohio climate can dramatically change and create road hazards to look out for:
Clearing leaves from your car is not only a detriment to your own visibility as well as your car's overall health and appearance, but autumn leaf pile-up and debris can cause very slick road conditions. Always remember to give yourself plenty of time and room for sudden stops on wet roads. 
As fun as they may be to jump into, large piles of leaves, especially in more residential and suburban areas can easily block your view of corners, traffic signs, and obstacles like potholes or garbage cans, or even pedestrians and children. Always use caution when driving around large piles of leaves, and adhere to speed limits. 
Leaves on the ground, even in cooler fall temperatures, can quickly dry out and catch fire. Your car's exhaust system or catalytic converter can potentially ignite dried leaves so avoid parking or idling over any large piles of leaves.
Deer may be cute from afar, but can run amok on the roads in the autumn. The Fall tends to be a very active time for deer populations, specifically in the dusk and dawn hours. Use caution and adhere to speed limits to give yourself enough time for emergency stops; remember that deer travel in herds and can abruptly run out from tree lines and into the road at any time.
Get Routine Auto Service near Lima, Delphos, and Wapakoneta
From windshield to wheel tread, a good deal of safe driving year round means routinely maintaining your vehicle, especially as the weather shifts and your vehicle is exposed to more wet and corrosive conditions like leaves, road salt, and wet roads. 
Make sure your car is in peak condition for the Fall, and schedule service appointments at your local Ahl For Less service center serving the Lima, Delphos and Wapakoneta areas. If you have any questions or inquiries, feel free to contact us today!