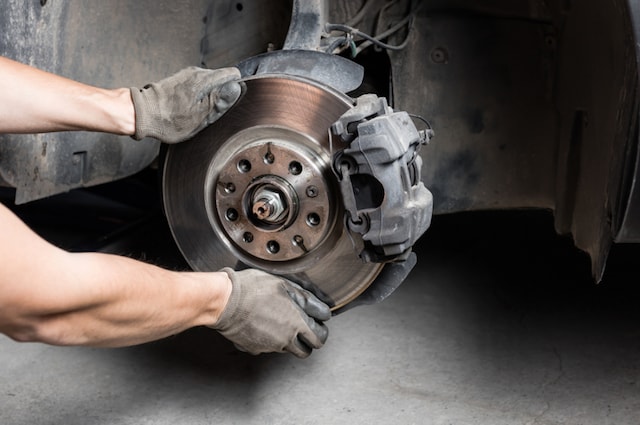 One of the most important safety features in your car are the brakes. It's extremely important they are working properly at all times because they are your car's first line of defense. With so much going on with your car, it may be unclear when there is a problem with them. Our service center near Delphos wants drivers to be wary of these signs that suggest you need your brakes checked.
Vibration: If you press on your brakes and feel vibrations coming from the brake pad, this is a sign the rotors are becoming warped. When the rotors become warped, the brakes pads are unable to grab enough of the road surface to stop properly.
Brake wear indicator: Next time you press on the brakes, make sure you are listening carefully for a high-pitched screeching sound. That audible warning is the brake wear indicator. This is purposefully making noise to notify you that your vehicle needs its brakes serviced or replaced.
More time to come to a complete stop: Have you noticed lately that you need to press the brakes harder and faster as you approach a red light? Your brakes are not as responsive as they used to be! You should bring your car into our service center as soon as possible to be fixed.
Pulling:If you press on the brakes and realize your vehicle is pulling to one side more than the other, it may be a sign that the brake linings are wearing unevenly. Or, it's possible there is a foreign object in the brake fluid. Either way, this suggests your brakes need adjustment and/or the brake fluid needs replacement.
Grinding or growling: If you reach this point of hearing a loud metallic sound, you have worn down your brake pads completely. This growling noise is caused by two pieces of metal (disc an the caliper) rubbering together, scratching your rotors to create an uneven surface. Not only are you in need of brake replacement, you may need to have your rotors turned.
Visit Our Service Center Near Delphos
Don't let your brakes health falter anymore! If you act quickly, you can save yourself money and further repairs that need to be done on your vehicle. You also do not want to compromise you and the safety of those around you. Not only will you come to a state-of-the-art facility, Delphos area drivers can enjoy using our service specials to help ease the cost of brake repairs.
Our expert mechanics are here to work through any problems you may be facing, while offering their best judgment on the condition of your vehicle. At our Ahl For Less service center, we offer wide-ranging hours, schedule appointment online, and a comfortable waiting lounge for our customers. To schedule your appointment today,
contact us
at (888) 348-4131.